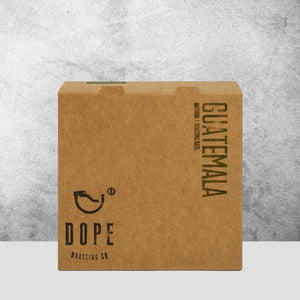 Espresso Eco Capsules Single Origin Guatemala
From the volcanic ranges of Guatemala direct to your Nespresso machine. These DOPE espresso capsules are full of fresh chocolaty character and great balance. Medium roasted with great care for a silky texture that will leave you craving for more.
Our Single Origin Guatemala-Antigua espresso capsules come with our Freshness Guarantee: all DOPE coffee is roasted daily in small batches. Guaranteed to be maximum 8 days old upon shipping.
Eco Capsule
All our Eco Capsules are compatible with your Nespresso machine. They are biodegradable and compostable, made for a better, sustainable future.
Get your freshly ground Single Origin Guatemala-Antigua espresso in capsules delivered right at your home or office.