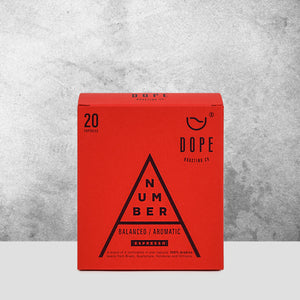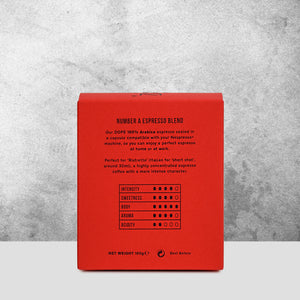 Espresso Eco Capsules Number A
Our DOPE 100% Arabica espresso sealed in a capsule compatible with your Nespresso machine, so you can enjoy a perfect espresso at home or at work. Perfect for 'Ristretto' (Italian for 'short shot', around 30ml), a highly concentrated espresso coffee with a more intense character.
Our Blend Number A espresso capsules come with our Freshness Guarantee: all DOPE coffee is roasted daily in small batches. Guaranteed to be maximum 8 days old upon shipping.
Eco Capsule
All our Eco Capsules are compatible with your Nespresso machine. They are biodegradable and compostable, made for a better, sustainable future.
Order your freshly ground Blend Number A espresso in capsules now.