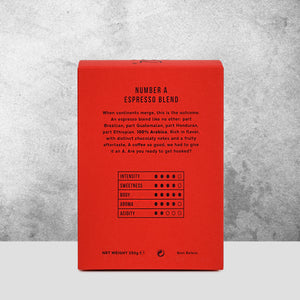 When continents merge, this is the outcome. An espresso blend like no other: part Brasilian, part Guatemalan, part Ηonduran, part Ethiopian. 100% Arabica. Rich in flavor, with distinct chocolaty notes and a fruity aftertaste. A coffee so good, we had to give it an A. Are you ready to get hooked? 
Our Espresso Blend Number A comes with our Freshness Guarantee: all DOPE coffee is roasted daily in small batches. Guaranteed to be maximum 8 days old upon shipping. 
Order your freshly ground Espresso Blend Number A now.